The Zachary Community School Board has demonstrated a continuing commitment to technology in the learning environment through the purchase, maintenance and training of staff on leading-edge technology resources. Below you will find program specifications of our technology-rich facilities and detailed information about the educational applications of these hardware and software purchases. For more information, please contact the technology department.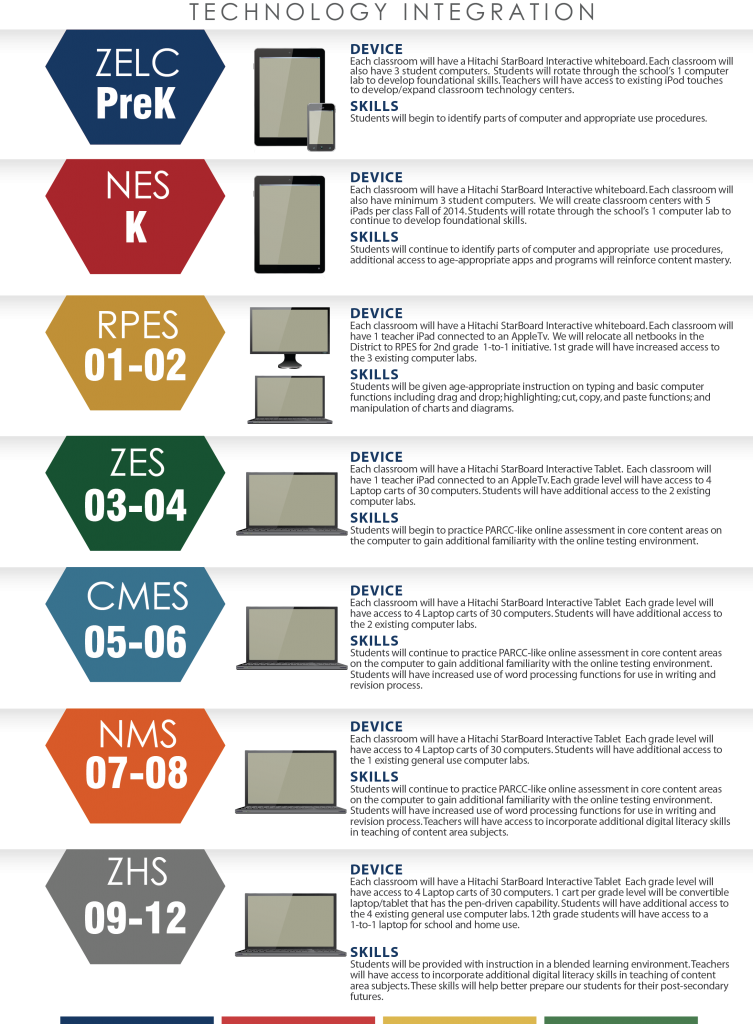 Resources
Program Specifications
Multimedia Specifications
Zachary schools have adopted wireless displays for all our teachers.  Teachers have projectors with large format screens installed in their classrooms and are issued a Microsoft Surface Pro.  The Microsoft Surface gives each of our teachers the freedom to move throughout the classroom and using modern digital inking technology.
Parent Command Center
Parent Command Center allows parents to have instant access to important student information including Attendance, Conduct, Discipline, Grades, and Progress on Assignments. The program, accessible through a web interface, works with the District's Gradebook software and requires no additional work for teachers while providing a valuable resource for parents.
Moodle Course Management System
The Zachary Community School District uses MOODLE online course management system to prepare our students for the online learning environment they will experience at major universities including Louisiana State University. The course management system allows for course discussion boards and online assignment submission.
Protecting Student Privacy
The Louisiana legislature recently passed legislation, Act 837, which provides for limitations and prohibitions on the collection and sharing of student information. Additionally, the legislature passed Act 677, which requires that Louisiana Department of Education and local school districts publish information on their websites about the sharing of students' personally identifiable information.
Zachary Community School District Personally Identifiable Information *See bottom of page*
Contact
| | A | B | C | D | H | I | J | K | L | M | N | O | P | Q | R | S | T | U | V | W | X | Y | Z |
| --- | --- | --- | --- | --- | --- | --- | --- | --- | --- | --- | --- | --- | --- | --- | --- | --- | --- | --- | --- | --- | --- | --- | --- |
| 1 | School | Software Name | Purpose | Data Elements | | | | | | | | | | | | | | | | | | | |
| 2 | Copper Mill Elementary | Adapted Mind | Student Mastery of a Skill-Math | Student First Name, Student Last Name | | | | | | | | | | | | | | | | | | | |
| 3 | Copper Mill Elementary | Autoskills | Intervention Enrichment | Student First Name. Student Last Name | | | | | | | | | | | | | | | | | | | |
| 4 | Copper Mill Elementary | BookCollectorz | Classroom Library Software | Student First Name, Student Last Name | | | | | | | | | | | | | | | | | | | |
| 5 | Copper Mill Elementary | Class Manager | Keeps Track of intervention for Tier records | Student First Name, Student Last Name | | | | | | | | | | | | | | | | | | | |
| 6 | Copper Mill Elementary | Classroom Dojo | Classroom Management and Behavior | Student First Name, Student Last Name | | | | | | | | | | | | | | | | | | | |
| 7 | Copper Mill Elementary | Code.org | Math Enrichment through Computer Science | Student First Name, Student Last Name | | | | | | | | | | | | | | | | | | | |
| 8 | Copper Mill Elementary | Connect ed | Basal Support | Student First Name. Student Last Name | | | | | | | | | | | | | | | | | | | |
| 9 | Copper Mill Elementary | Easy CBM | Intervention Enrichment | Student First Name, Student Last Name | | | | | | | | | | | | | | | | | | | |
| 10 | Copper Mill Elementary | Failure Free Reading | Reading Curriculum | Student First Name, Student Last Name | | | | | | | | | | | | | | | | | | | |
| 11 | Copper Mill Elementary | Glogster | Project Submission- Math | Student First Name, Student Last Name | | | | | | | | | | | | | | | | | | | |
| 12 | Copper Mill Elementary | Houghton Mifflin | Online student textbooks | Student First Name, Student Last Name, Last 4 of SSN | | | | | | | | | | | | | | | | | | | |
| 13 | Copper Mill Elementary | Mindplay | Reading Intervention/Enrichment | Student First Name, Student Last Name | | | | | | | | | | | | | | | | | | | |
| 14 | Copper Mill Elementary | Moby Max | Intervention Enrichment | Student First Name, Student Last Name | | | | | | | | | | | | | | | | | | | |
| 15 | Copper Mill Elementary | Renaissance Place | Accelerated Reader, Star Math, Star Reading | Student First Name, Student Last Name , Last 4 of SSN | | | | | | | | | | | | | | | | | | | |
| 16 | Copper Mill Elementary | Stride Academy | Math/Science/ELA program | Student First Name, Student Last Name, Student ID# | | | | | | | | | | | | | | | | | | | |
| 17 | Copper Mill Elementary | Tenmarks | Math Software | Student First Name, Student Last Name | | | | | | | | | | | | | | | | | | | |
| 18 | Copper Mill Elementary | Typing Club | student typing software | Student First Name, Student Last Name, Password | | | | | | | | | | | | | | | | | | | |
| 19 | Copper Mill Elementary | Typing Web | Student typing web based software | Student First Name, Student Last Name, Password | | | | | | | | | | | | | | | | | | | |
| 20 | Copper Mill Elementary | www.betaclub.org​ | Student Enrollment in National Club | Student First Name, Student Last Name | | | | | | | | | | | | | | | | | | | |
| 21 | Copper Mill Elementary | www.http://classroom.booksource.com | Manage Classroom Library | Student First Name, Student Last Name | | | | | | | | | | | | | | | | | | | |
| 22 | Copper Mill Elementary | Zipgrade | Grades by scan of multiple choice answers | Student First Name, Student Last Name | | | | | | | | | | | | | | | | | | | |
| 23 | Northwestern Middle | Baton Rouge Girls Atletic Assoc. BRGAA | Girls Softball league- Softball, Volleyball, Basketball rosters are emailed to League Director | Student Name, Grade, Birthdate and Age | | | | | | | | | | | | | | | | | | | |
| 24 | Northwestern Middle | http://www.hy-tekltd.com/​ | register swim team | name, date of birth, grade, gender, and USA Swimming ID number (a combination of first name, middle initial, last name and date of birth. | | | | | | | | | | | | | | | | | | | |
| 25 | Northwestern Middle | Jam Fest dance competition | dance competition sign up | Student Name, Date of Birth, gender, Insurance policy number, home address | | | | | | | | | | | | | | | | | | | |
| 26 | Northwestern Middle | Newton | Lunch System | Student Full Name, Student ID Number, Student Grade, Student Homeroom Teacher, Student School | | | | | | | | | | | | | | | | | | | |
| 27 | Northwestern Middle | Remind | Yearbook Club | Student signs up using their name and their cell number or email of their choosing (we do not see cell number or email) | | | | | | | | | | | | | | | | | | | |
| 28 | Northwestern Middle | Renaissance Place | | | | | | | | | | | | | | | | | | | | | |
| 29 | Northwestern Middle | Southwest Airlines | Flights to cheer and dance competitions | Student Name, Gender, Date of Birth | | | | | | | | | | | | | | | | | | | |
| 30 | Northwestern Middle | Spenser Studios | Photography company | Student First Name, Student Last Name, Grade , Student ID number | | | | | | | | | | | | | | | | | | | |
| 31 | Northwestern Middle | Stride Academy | Math Intervention | Student First Name, Student Username, Student Password | | | | | | | | | | | | | | | | | | | |
| 32 | Northwestern Middle | Typing Club | student typing software | Student First Name, Student Last Name, Password | | | | | | | | | | | | | | | | | | | |
| 33 | Northwestern Middle | Typing Web | typingweb.com - touch typing program | Student First Name, Student Last Name, Password | | | | | | | | | | | | | | | | | | | |
| 34 | Northwestern Middle | UCA varsity.com | cheer competition sign up | Student Name, Date of Birth, Insurance policy number, home address | | | | | | | | | | | | | | | | | | | |
| 35 | Northwestern Middle | UDA National Dance Team Association | dance competition sign up | Student Name, Date of Birth, gender, Insurance policy number, home address | | | | | | | | | | | | | | | | | | | |
| 36 | Northwestern Middle | Walsworth Yearbook Publishing | Yearbook company | Student First Name, Student Last Name, Grade, Picture | | | | | | | | | | | | | | | | | | | |
| 37 | Northwestern Middle | Webpams | Attendance, Grades, Discipline, Funds | ALL Student Information | | | | | | | | | | | | | | | | | | | |
| 38 | Northwestern Middle | World Book Online | Research Database | Student First Name, Student Username, Student Password, Student School (optional account) | | | | | | | | | | | | | | | | | | | |
| 39 | Northwestern Middle | WSA | cheer and dance competition sign up | Student Name, Date of Birth, Insurance policy number, home address | | | | | | | | | | | | | | | | | | | |
| 40 | Northwestern Middle | www.betaclub.org​ | added new inductee members to the national beta club we | Student First Name, Student Last Name, Grade | | | | | | | | | | | | | | | | | | | |
| 41 | | | | | | | | | | | | | | | | | | | | | | | |
| 42 | Zachary Elementary | ABC Mouse | | Student First Name, Student Last Name, Password | | | | | | | | | | | | | | | | | | | |
| 43 | Zachary Elementary | ABCYA | Computer Lab | Student First Name, Student Last Name, Password | | | | | | | | | | | | | | | | | | | |
| 44 | Zachary Elementary | Arbordale E books | Library | Student First Name, Student Last Name, Password | | | | | | | | | | | | | | | | | | | |
| 45 | Zachary Elementary | Auto Skills | Reading/Math intervention | Student First Name, Student Last Name, Password | | | | | | | | | | | | | | | | | | | |
| 46 | Zachary Elementary | BrainPop | clasrooms | Student First Name, Student Last Name, Password | | | | | | | | | | | | | | | | | | | |
| 47 | Zachary Elementary | Class Dojo | | Student First Name, Student Last Name, Password | | | | | | | | | | | | | | | | | | | |
| 48 | Zachary Elementary | ConnectEd.mcgraw-hill.com | | Student First Name, Student Last Name, Password | | | | | | | | | | | | | | | | | | | |
| 49 | Zachary Elementary | Core Clicks- Scholastic | ELA- Basal | Student First Name, Student Last Name, Password | | | | | | | | | | | | | | | | | | | |
| 50 | Zachary Elementary | Destiny | library catalog | Student First Name, Student Last Name, Password | | | | | | | | | | | | | | | | | | | |
| 51 | Zachary Elementary | Donors Choose | | Student First Name, Student Last Name, Password | | | | | | | | | | | | | | | | | | | |
| 52 | Zachary Elementary | epals.com | Spanish | Student First Name, Student Last Name, Password | | | | | | | | | | | | | | | | | | | |
| 53 | Zachary Elementary | Hour of Code | Computer Lab | Student First Name, Student Last Name, Password | | | | | | | | | | | | | | | | | | | |
| 54 | Zachary Elementary | Kagan Selector Tools Software | ELA Classroom | Student First Name, Student Last Name, Password | | | | | | | | | | | | | | | | | | | |
| 55 | Zachary Elementary | Khan Academy | Science Suppoort | Student First Name, Student Last Name, Password | | | | | | | | | | | | | | | | | | | |
| 56 | Zachary Elementary | LingtLanguage | Submitting assignments to Spanish, Music | Student First Name, Student Last Name, Password | | | | | | | | | | | | | | | | | | | |
| 57 | Zachary Elementary | McGraw-Hill ConnectEd | fourth grade ELA | Student First Name, Student Last Name, Password | | | | | | | | | | | | | | | | | | | |
| 58 | Zachary Elementary | Moby Max | Intervention | Student First Name, Student Last Name, Password | | | | | | | | | | | | | | | | | | | |
| 59 | Zachary Elementary | MindPlay | Resource/SPED | Student First Name, Student Last Name, Password | | | | | | | | | | | | | | | | | | | |
| 60 | Zachary Elementary | Remind 101 | | Student First Name, Student Last Name, Password | | | | | | | | | | | | | | | | | | | |
| 61 | Zachary Elementary | Renaissance Place | classrooms/ Acc. Reader | Student First Name, Student Last Name, Password | | | | | | | | | | | | | | | | | | | |
| 62 | Zachary Elementary | Scootpad | Computer Lab | Student First Name, Student Last Name, Password | | | | | | | | | | | | | | | | | | | |
| 63 | Zachary Elementary | Show Me | | Student First Name, Student Last Name, Password | | | | | | | | | | | | | | | | | | | |
| 64 | Zachary Elementary | Stride Academy | Speech | Student First Name, Student Last Name, Password | | | | | | | | | | | | | | | | | | | |
| 65 | Zachary Elementary | Sumdog | Computer Lab | Student First Name, Student Last Name, Password | | | | | | | | | | | | | | | | | | | |
| 66 | Zachary Elementary | SumDog | | Student First Name, Student Last Name, Password | | | | | | | | | | | | | | | | | | | |
| 67 | Zachary Elementary | TypingWeb | Computer Lab | Student First Name, Student Last Name, Password | | | | | | | | | | | | | | | | | | | |
| 68 | Zachary Elementary | Voki | Gifted classroom | | | | | | | | | | | | | | | | | | | | |
| 69 | Zachary Elementary | Wonders | Basal | | | | | | | | | | | | | | | | | | | | |
| 70 | Zachary Elementary | XTra Math | | | | | | | | | | | | | | | | | | | | | |
| 71 | Zachary High | AccelTest (2Know Response kit) | Quizzing- handheld remote system | First Name, Last Name | | | | | | | | | | | | | | | | | | | |
| 72 | Zachary High | Acclerated Reader | Reading Comprehension | First Name, Last Name, username, password | | | | | | | | | | | | | | | | | | | |
| 73 | Zachary High | ALCFES website and e-mail | registration for French Convention and info dissemination | first and last name, pictures | | | | | | | | | | | | | | | | | | | |
| 74 | Zachary High | All City Slam | Poetry Slam Contest | First name, Last name, Ages, Grade, Contact Info | | | | | | | | | | | | | | | | | | | |
| 75 | Zachary High | Animoto | web-based video tool | student names & logins | | | | | | | | | | | | | | | | | | | |
| 76 | Zachary High | aplia.com | Accounting Program used to Accounting I & II students | First and last names, DOB, Email address, possible mailing address | | | | | | | | | | | | | | | | | | | |
| 77 | Zachary High | Art Contests | submission to enter | First name, Last Name, Phone # | | | | | | | | | | | | | | | | | | | |
| 78 | Zachary High | Athletics - Athletic.net | website for track | First and last name | | | | | | | | | | | | | | | | | | | |
| 79 | Zachary High | Athletics - Bayou Sports Network | Radion broadcast for Baseball | First and last name | | | | | | | | | | | | | | | | | | | |
| 80 | Zachary High | Athletics - COX TV | Competition | First and last name | | | | | | | | | | | | | | | | | | | |
| 81 | Zachary High | Athletics - Game Changer | Statistics for baseball, softball | First and last name | | | | | | | | | | | | | | | | | | | |
| 82 | Zachary High | Athletics - Hudl | video system for football, basketball | First and last name | | | | | | | | | | | | | | | | | | | |
| 83 | Zachary High | Athletics - Hy-tekltd.com | Swimming website | First and last name | | | | | | | | | | | | | | | | | | | |
| 84 | Zachary High | Athletics - LHSAA | All eligibility for athletes | First and last name, DOB, SS# | | | | | | | | | | | | | | | | | | | |
| 85 | Zachary High | Athletics - LHSWA (La. HS Wresting Assoc) | Coaches website | First and last name | | | | | | | | | | | | | | | | | | | |
| 86 | Zachary High | Athletics - Lineup Cards/Rosters | Competition | First and last name | | | | | | | | | | | | | | | | | | | |
| 87 | Zachary High | Athletics - Louisianarunning.com | website for track | First and last name | | | | | | | | | | | | | | | | | | | |
| 88 | Zachary High | Athletics - Max Preps | Stat promotion for all sports | First and last name | | | | | | | | | | | | | | | | | | | |
| 89 | Zachary High | Athletics - NOLA Preps | promote programs or report scores | First and last name | | | | | | | | | | | | | | | | | | | |
| 90 | Zachary High | Athletics - NWCA (Wrestling Coaches Assoc) | website for coaches | First and last name | | | | | | | | | | | | | | | | | | | |
| 91 | Zachary High | Athletics - Redstixtiming.com | website for track | First and last name | | | | | | | | | | | | | | | | | | | |
| 92 | Zachary High | Athletics - Rips Photography | Team and action pictures | First and last name | | | | | | | | | | | | | | | | | | | |
| 93 | Zachary High | Athletics - Sharon Ventura Photography | Team and action pictures | First and last name | | | | | | | | | | | | | | | | | | | |
| 94 | Zachary High | Athletics - The Advocate | Promote programs or report scores | First and last name | | | | | | | | | | | | | | | | | | | |
| 95 | Zachary High | Athletics - Track Wrestling | stat program for wrestling | First and last name | | | | | | | | | | | | | | | | | | | |
| 96 | Zachary High | Athletics - Websites | Announcements | First and last name | | | | | | | | | | | | | | | | | | | |
| 97 | Zachary High | Aurasma | augemented reality App | First name, last name, email | | | | | | | | | | | | | | | | | | | |
| 98 | Zachary High | Band Uniform Mgmt. System | Ordering band uniforms | First name, Last name | | | | | | | | | | | | | | | | | | | |
| 99 | Zachary High | Belles- American Dance Association | Competition | First and last name | | | | | | | | | | | | | | | | | | | |
| 100 | Zachary High | Belles- Varsity Spirit/Universal Dance Association | Uniforms/Ordering/Competition | First & last name, Age | | | | | | | | | | | | | | | | | | | |